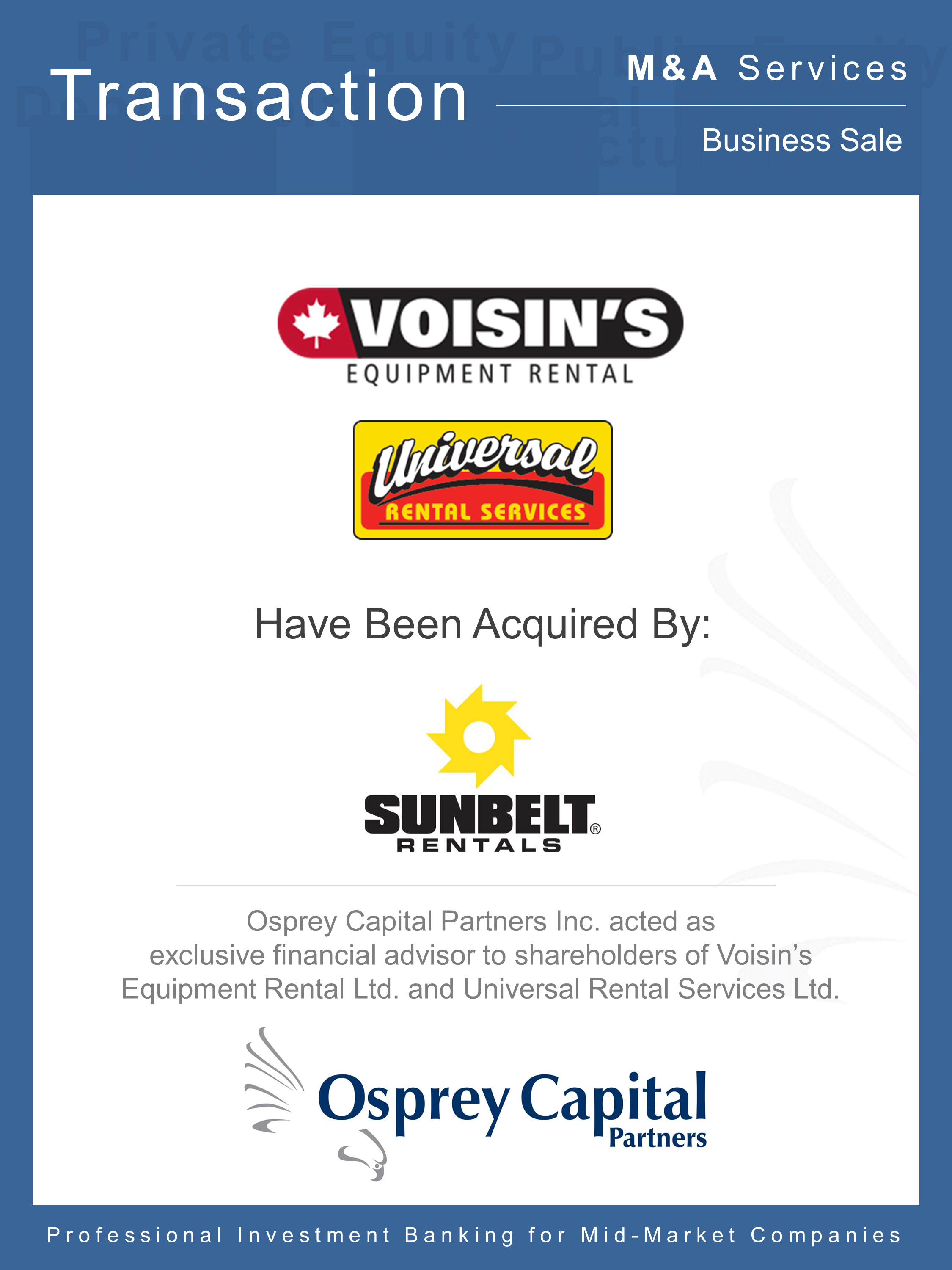 Osprey Capital Partners Inc. is pleased to announce that Voisin's Equipment Rental Ltd. and Universal Rental Services Inc. have been acquired by Sunbelt Rentals Inc.
The Client:
Voisin's Equipment Rental is one of the largest independent equipment rental companies in North America. Based in Guelph Ontario, the Company specializes in aerial equipment rentals, sales and repair services to over 900 customers in the residential and commercial construction industry. Voisin's has a fleet of nearly 2500 aerial lifts and telehandlers.
Universal Rental Services is an Ontario-based general tool and construction equipment rental company offering products ranging from chainsaws to large bulldozers. Universal operates three facilities located in Guelph, Fergus and Orangeville.
The Objective:
The Shareholders were interested in finding a partner to help continue the companies' impressive historical growth and provide liquidity. Osprey Capital planned and executed a highly confidential sale process including a select group of strategic and financial buyers.
The Result:
Sunbelt Rentals, a wholly owned subsidiary of Ashtead Group plc (AHT.LSE) and the second largest equipment rental company in North America with more than 700 locations and 11,000 employees, acquired Voisin's and Universal. Sunbelt Rentals was chosen due to its reputation in the industry and the numerous synergies between the two companies.
"When we started the process to find a partner we had a good idea of what we wanted to achieve and chose Osprey Capital not only because of their experience and track record but also their fit with our team", said Steve Voisin, President of Voisin's and Universal, "We are extremely happy with the outcome." Mr. Voisin will assume a senior role at Sunbelt.
"The owners and management of the companies should be very proud of what they have built", said Stephen Jakob, Co-Founder and Managing Partner of Osprey Capital, "We are thankful for the trust and confidence they had in us to help them achieve their goals."