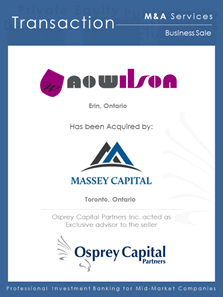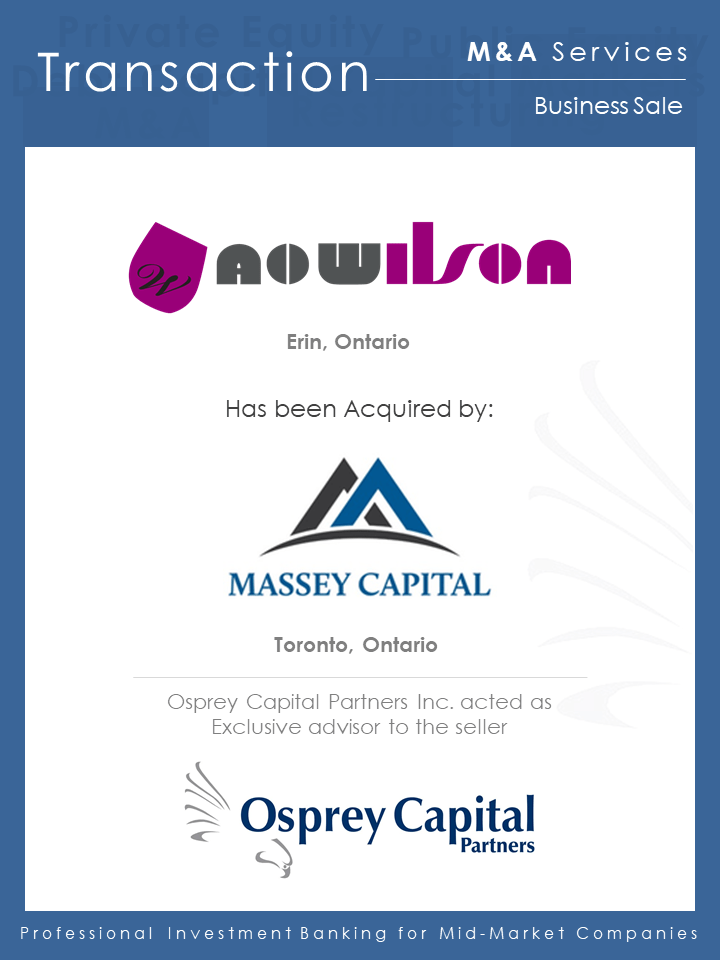 September – Osprey Capital Partners Inc. is pleased to announce that A.O. Wilson, a Canadian-based supplier of premium products to the wine and alcoholic beverage industry, has been acquired by Massey Capital. Osprey Capital acted as the exclusive financial advisor to the owners of A.O. Wilson.
The Client
A.O. Wilson provides a wide range of products, including caps and closures, enology products, filtration, packaging equipment, and sanitation products.
Its clients include well-established wineries, breweries, cideries and distilleries across Canada.
Founded in 1945, the company has long relied on a combination of deep industry knowledge, a quality product offering and timely service.
The Objective
A.O. Wilson's owners were looking for the right partner to provide a succession strategy but also have a vision for the company's future by building on its name, reputation, and history.
The Result
Osprey Capital planned and executed a highly confidential sale process which included identifying a defined group of strategic and private equity buyers. The sale process resulted in identifying a partner that shared the values of A.O. Wilson's owners, while providing them an attractive plan for succession.
Graham Wilson, president of A.O Wilson, says the company had initially tried to find a buyer through a U.S.-based mergers and acquisitions firm before finding Osprey. "We found the Osprey team to be good people, well connected and experienced in the sale, which allowed us to successfully close the transaction in a timely manner. In the end, it felt like a win–win. They found a fantastic buyer that valued our people, and they have a vision for a prosperous future for both them and the company."
Troy Ternowetsky, Managing Partner of Osprey, says he's "very happy the firm's advisory services helped A.O. Wilson's owners locate a buyer that will continue to build on the company's legacy, while creating a path for Graham and Anne-Marie to transition to the next stage of their lives."
About Osprey Capital Partners
Founded in 1998, Osprey Capital has established itself as one of Canada's leading independent mid-market investment banking and financial advisory firms. Osprey offers a range of advisory services focused on the execution of merger, acquisition, business sale, and finance transactions. Osprey Capital's success in servicing clients' M&A and financing requirements is a result of its understanding of the unique needs of mid-market companies and their shareholders and its strong relationships with industry players including strategic acquirers, Canadian & international private equity funds, institutional investors, lenders and banks.