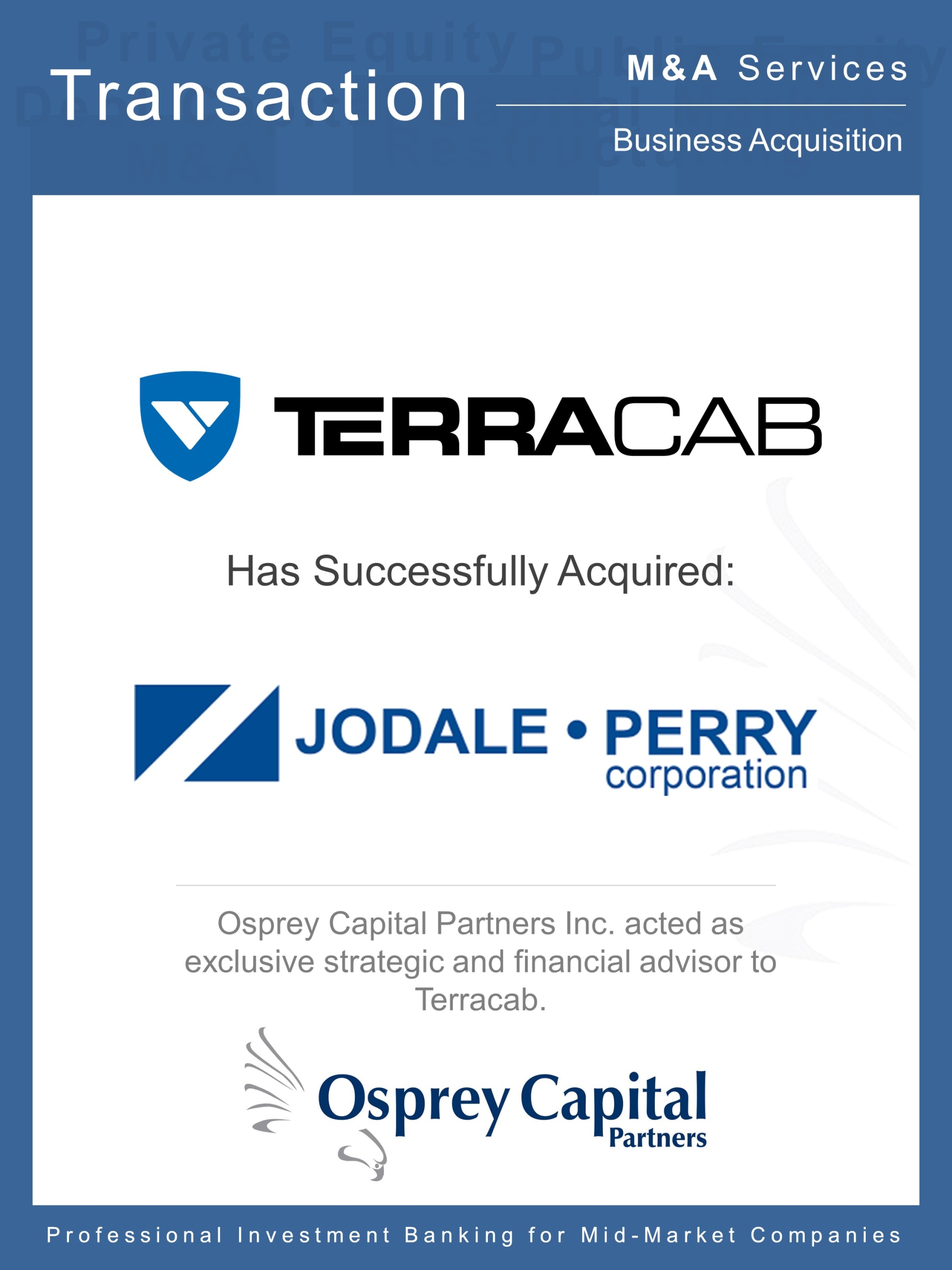 Osprey Capital Partners Inc. is pleased to announce that it assisted TerraCab Industries to acquire Manitoba based Jodale Perry Corporation, a leader in the design, engineering and manufacturing of ROPS Cabs products, providing some of the most striking designs and innovative engineering solutions available on today's market for tractors, utility vehicles, golf course equipment, heavy industrial mining equipment and commercial heavy equipment applications. TerraCab has been involved in the development of projects for OEM clients from a broad spectrum of industries – providing design, testing, engineering and manufacturing services for ROPS guards, canopies, cabs and full composite bodies.
The Client:
TerraCab is a new company, fostered from the ownership of Argus Industries (its sister company) and will be based on the foundational LEAN culture that Argus Industries has been made known for throughout various articles, speaking engagements & media attention that their Serious/Fun Culture has brought them. Argus is a seal/gasket manufacturing company that specializes in many markets, from agriculture to aerospace, high tech to low tech and everything in between. Argus is a custom manufacturer of rubber molded products and custom die cut gasket seals. Argus Metals, a niche company in the family, does 3D Cad design for CNC Machining, lathe work, production metal parts and robotic welding. Argus has 2 locations based in Winnipeg, a branch plant in Pickering, Ontario and TerraCab Industries operates in Morden Manitoba.
The Ask:
Osprey Capital was engaged by the owner of Argus Industries to assist in the sourcing, negotiations, structuring and closing for the acquisition of a business in the manufacturing space related to diversify Argus Industries footprint.
The Result:
Michael Easton, President of Argus Industries determined, "With our Manitoba operations fully engaged in running world class systems and processes on a LEAN manufacturing foundation we were in need of finding a business that covered our wide range of manufacturing disciplines, (rubber, plastic & metal) but with a big gap in manufacturing systems and processes." The acquisition of Jodale (now operating as TerraCab) presented the owner with "a great opportunity to use the business model that we created and brought us much success at Argus, to be able to re-create that story and success at TerraCab. Osprey Capital played a key role in sourcing the opportunity and guided us through negotiations. They ensured that the structure of the acquisition enabled us to maintain the core values of the vendors, employees and to position us for growth and expansion for the future of all businesses under the ownership."