Stikeman Elliott Views from the Market: Midmarket M&A and Private Equity Podcast
In this episode, Mario Nigro is joined by Stephen Jakob, co-founder of Osprey Capital Partners Inc.
August 2021 – Stephen Jakob was a guest on Stikeman Elliott's Views from the Market podcast hosted by Mario Nigro, M&A partner at Stikeman. The episode, Canada's Midmarket: Accelerating Growth as Available Capital Increases, highlights growing private equity activity and the substantial increase of available capital in Canada's midmarket.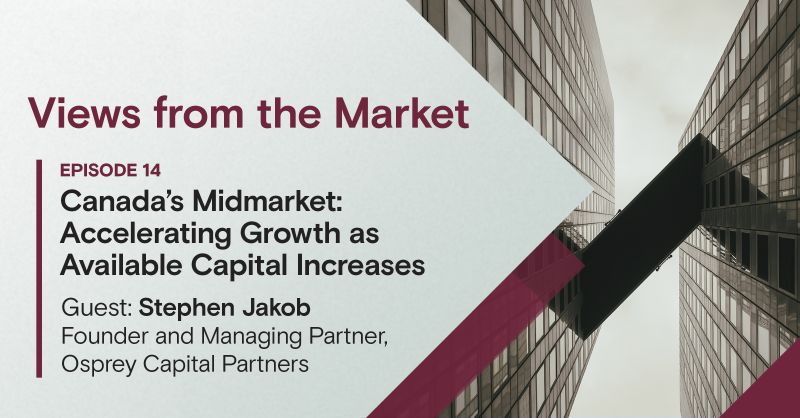 This podcast features Stephen Jakob, co-founder of Osprey Capital Partners, advisors to families and shareholders selling mid-sized businesses. Over the past 20 years, growing private equity activity has substantially increased available capital in Canada's midmarket. According to Stephen, the pandemic has only exacerbated this trend, as numerous search funds, unfunded sponsors and U.S. funds join the hunt for Canadian acquisitions, with bidding wars now commonplace for even relatively small businesses.
About Osprey Capital Partners
Founded in 1998, Osprey Capital has established itself as one of Canada's leading independent mid-market investment banking and financial advisory firms. Osprey offers a range of advisory services focused on the execution of merger, acquisition, business sale, and finance transactions. Osprey Capital's success in servicing clients' M&A and financing requirements is a result of its understanding of the unique needs of mid-market companies and their shareholders and its strong relationships with industry players including strategic acquirers, Canadian & international private equity funds, institutional investors, lenders and banks.